Las Vegas' The Nocturnal Affair is an alternative/dark rock project known for their uniquely haunting sound, and dark alternative melancholic musical style.  
The band's debut album, (META)MORPHOSIS, released in partnerhship with Earache Records, was produced by Grammy-nominated Disturbed bassist, John Moyer.  Their first single, "Down", hit radio in November of 2021 and soon opened the doors for a US tour with Chris Jericho's Fozzy in March of 2022. 
A summer headline tour soon followed, along with opening spots for Gemini Syndrome, Earshot, and Beartooth.  
Following a second tour with Fozzy, they have recently released a new single, "It's No Good", which is available on all major streaming platforms.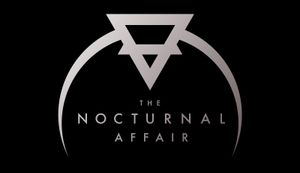 * Timeline *
Spring 2019 - First National Tour; joined The 69 Eyes & MXMS for 30 dates across America.
November 2021 - Partnered with Earache Records and CO5 to release Down on all streaming platforms & terrestrial radio.
March/April 2022 - Second National Tour; opening for world-renowned wrestler and entertainer Chris Jericho's FOZZY.
March 2022 - First full-length record (META)MORPHOSIS released in partnership with Earache Records.
August 2022 - Third National Tour to support (META)MORPHOSIS.  Included support dates for Gemini Syndrome and Beartooth. 
September 2022 - Backbiter single released.
March/April 2023 - National Tour with Fozzy and Seventh Day Slumber.
May 2023 - It's No Good sIngle released
Contact: 
TheNocturnalAffair@gmail.com